CopyMinder is a new copy protection system that operates differently from all other systems and achieves what has, up to now, been thought impossible: hassle free, secure, flexible copy protection.
CopyMinder requires occasional Internet access to achieve this flexibility but those without Internet access are also accommodated.

How Does It Work?
As if by magic!  CopyMinder does not lock your software to a particular item of hardware.  This would cause too many problems should the hardware be lost, stolen, changed or fail.  Rather, each installation of the software is intermittently monitored via the Internet.  The CopyMinder web site will be aware if there appears to be more than one installation and act accordingly.  How the web site responds to suspect installations depends on the strictness level you chose.
This technique has many advantages:
The independence from hardware removes one of the main causes of hassle.  Previous systems required considerable time and effort on your part deciding whether to believe the customer and to get them going again following a hardware failure.  Perhaps more importantly, CopyMinder enables users to get going again even outside your business hours. 
You have complete control over your software on their machine.  If you want to change the protection parameters (or even stop the program from running should they fail to pay), you can do so without the user having to do anything. 
It enables us to automatically upgrade the protection system in the unlikely event that a bug or security loophole is found in the system or we add new features for you or changes are required for a new version of Windows.
A Protection Check
Your protected program calls our server to verify the installation
Our server checks all the details of the installation in our database
Once verified, our server then returns a code to your protected program to allow it to run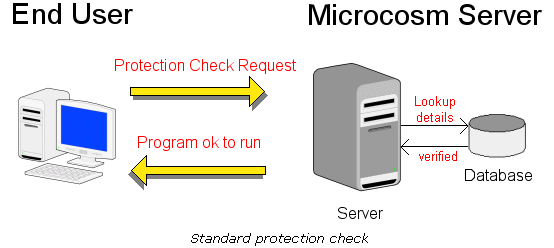 Features
Hassle free.  Many Software Developers believe that being hassle free is even more important than the level of security.  CopyMinder is more hassle free than any other system.  Users should have no reason to contact you regarding copy protection unless they are permanently without Internet access.  And even if you do need to change their protection parameters, you can do it via a web page.  The user does not need to do anything.




Hardware independent.  Traditional techniques made it difficult for users to transfer the protected software from one machine to another.  CopyMinder is much more flexible than these old rigid systems.  The user can just install the software on the new machine, start to use it and the old installation becomes invalid!




Ultra secure.  We have applied all our experience with previous products to ensure the highest level of security.  Furthermore, the system is flexible enough for it to automatically upgrade itself on users' machines should a weakness appear in the future.




Flexible.  The Software Developer has the flexibility of being able to tailor the protection parameters of each individual user, should they so wish, via an Internet web page.  Again, the user does not need to do anything.




Easy to Create.  Adding protection to your software is extremely easy.  Just specify which program you wish to protect and click on a button.  You can then set/change the default protection parameters on the web site either in general terms or in detail.




Easy to Install.  Your installation software needs to do no more than copy one extra file to the user's machine.




Control of your software.  You can set the number of executions, number of days to run, expiry dates and number of network users. You can control which features of your software can be used.  There is also a data area that you can use to store your data securely.




Try-It facility.  You can allow potential customers to try your software before they buy it.




Integrate with online payment systems

.  You can get CopyMinder to generate Product Keys once payment has been verified using online payment systems. See

here

for more details.




Buy-It facility .  You can link CopyMinder to an online payment system.  Unlike other systems, you can stop them using your software should a credit card payment be subsequently rejected.




Upgrades.  CopyMinder has no problem should you wish to send your customers new versions of your software.




Customer Database.  CopyMinder includes a customer database so that you can keep track of all your customers and their copy protection settings.  A full reporting system is included and you can export the data to your own customer database should you so wish.




Registration.  You can specify that the user must register their details before using your software, if you wish.




Customisable.  You can either use our default user messages or you can provide your own user interface.




Inexpensive.  CopyMinder is very reasonably priced at £95 for the SDK covering unlimited upgrades and support for life.




Multi OS support

. CopyMinder currently supports all versions of Microsoft Windows from 95 onwards. It also supports all versions of Linux from Kernal 2.2 onwards.
http://www.copyminder.com/details.php