According to a report on investorideas.com, the crytocurrency exchange deVere has launched two more tokens onto the trading platform. Therefore, there are 7 crytocurrencies now trading on the platform in total, that is,Bitcoin (BTC), Ethereum (ETH) Litecoin (LTC), Ripple (XRP) and Dash (DASH) , Stellar(XLM) and Monero(XMR). This entrance into deVere is  certain a driver to drag the Star coin  and Monero's price up.
Nigel Green, founder and CEO of deVere Group, mentioned: "We've further expanded our offering on deVere Crypto to include Stellar and Monero due to clients demanding an even more extensive crypto portfolio." and the popularity of crytocurrency somhow forces traditional traders or institutions into accepting the new currency.
Has the crytocurrency age come yet? It seem that the authority has softened their tones and there are evidence we can't afford not to: financial institution, such as Goldman Sachs and NASDAQ enter crytocurrency market one after another; governments  still allows them to circulate in the market, thought they claims they will introduce tougher regulation; scandal of centre banks and rigid system in the traditional institution reveal our increasing need for a decentralized but also safe circulation mechanism.
However, what would happen if crytocurrency really becomes a fiat currency and come into everyone's daily? Can we afford to buy things using tokens whose value is so changeable. As we can seen from the following snapshot, the market together with its price do have some uncertainty.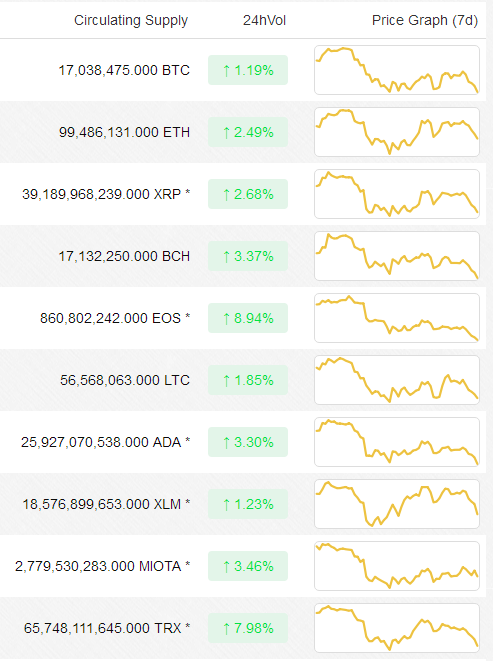 data from citicoins.com
The tokens transfer the downward trend overnight and the trading volume within 24 hours followed, it turned green again and people are bombarded by new coverage reporting change of the Bitcoin value and dispute among some financial giants over its usefulness. Would it be stable enough to act as a medium to change in our daily life? Think again.