The Graphics Pipeline and OpenGL
The synthetic camera model
Two components of viewing


Set of geometric objects that form content of the scene
Viewer through which the scene is imaged
The graphics pipeline
Primitives->Geometry processor->Rasterizer->Fragment processor->Frame buffer
The geometry processor
Transforms primitves to the camera's coordinate system, prepares them for rasterization
Culls primitives facing away from the camera or lying outside the view frustum
The rasterizer
Generates fragments(proto-pixels)
Fragment processor
Check if fragments are visible
Determines color
All fragments treated identically, irrespective of the original primitive
Frame buffer
Memory buffer used for the construction of the image.
Not all data that passes through the frame buffer is displayed. It is like a sandbox in which the image is constructed.
Used by the window system for display
Double buffering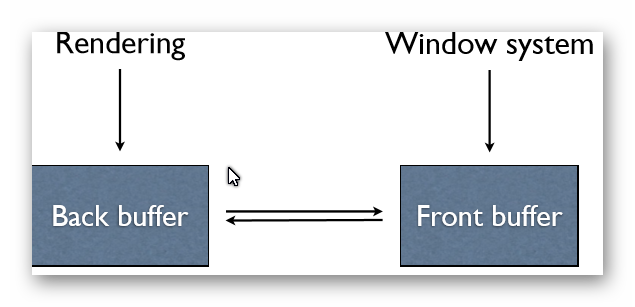 Render into the back buffer while the window system points to the front buffer. When the next frame is assembled, swap.
Avoid terrible visual artifacts
Double buffering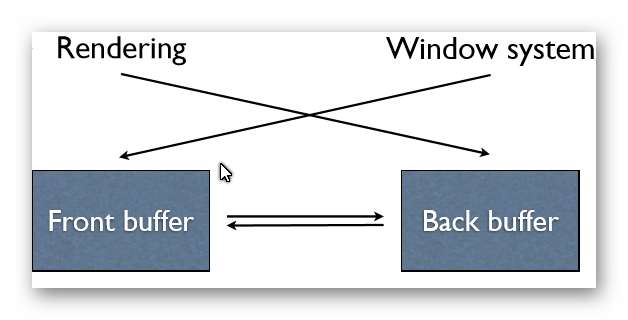 Render into the back buffer while the window system points to the front buffer. When the next frame is assembled, swap.
Avoid terrible visual artifacts.
Advantages and disadvantages of pipeline model
Great fro parallel processing


Primitives processed independently
Fragments processed independently

Does not support interaction between multiple object in the scene
Global illumination,shadows,reflection,refraction
Global illumination
Consider indirect illumination that is transmitted by means of other objects
Primitives are no longer independent
Ray tracing
Rays are cast from the viewpoint and followed recursivley through the scene
Whitted ray tracing: Compute direct illumination from light sources at every point hit by traced rays.
Radiosity
Discretize scene into pathes. Compute strength of interaction between patches.
Shoot light from source patches, deposit in other patches. iterate until light is absorbed.
Photon mapping
Stage 1: Trace photons from light sources and deposit onto photon map when photons interact with diffuse surfaces.
Stage 2: Cast rays from viewpoint and estimate radiance
Design considerations for OpenGL
Separation of content and viewer
Separates object description from viewer specification
Two types of function


Describe objects in the world (the input)
Specify how the object should be processed for constructing an image (the state)
OpenGL is a state machine
State machine with input and outputs


Input is geometric object, output is a set of pixels
State machine converts a collection of geometric objects in three dimensions to an image. This process is controlled by the state.
State specifies how objects are projected onto the image plane, how the are colored, etc.